Needham Broughton High School -- Raleigh, N.C.
Class of 1957
66th Reunion Lunch
22 September 2023


Although a 66th school reunion may seem unusual, this event was welcomed by the Needham Broughton Class of 1957. About 70 classmates and guests attended our 66th Reunion on September 22 at the NCSU University Club. Everyone enjoyed visiting before, during, and after the plated lunch. Great menu, great service, great memories.
We are grateful to the classmates whose anonymous contributions guaranteed such a special event.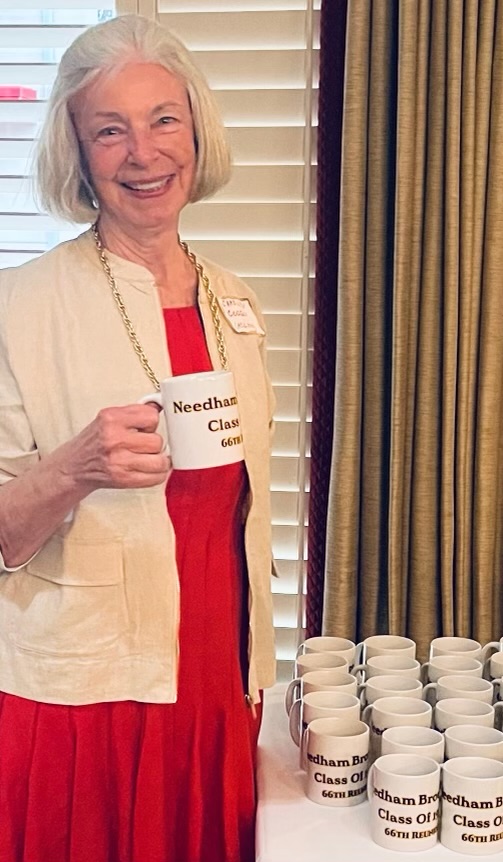 -- Carolyn Coggin Holmes sponsored a unique gift for all attendees: 66th Reunion coffee mugs designed by Kim Balentine ('81), daughter of John ('57) and Becky Franklin Balentine ('59).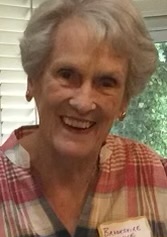 -- Brookshire Wynne McDonald, class poet, inspired us again with a reading of her latest work. Not every class has a poet; we are lucky.
Her poem is below for all to enjoy!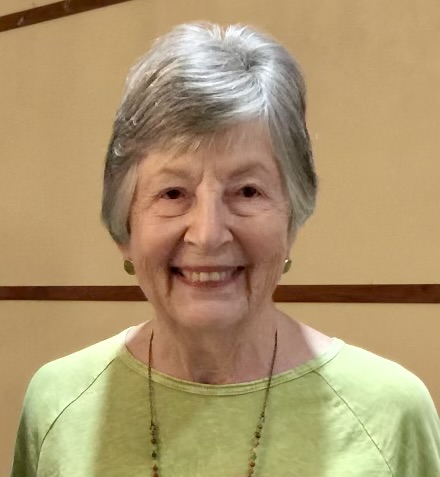 -- Thank you Judy and Billy!! Our class has enjoyed seven reunions and assorted other events since 1957. Fortunately, Judy Allen, class agent, and Billy Dunlap, class president, guided the way, ensuring success every time. They are a key reason that our class identity grew even stronger over the years.
This 66th Reunion, our final major event, was a meaningful gathering for this friendly class. Due to the Covid pandemic, we had canceled ten local mini-reunion dinners since early 2020 and bypassed a hoped-for 65th reunion last year. We want to keep seeing people, and since none of us want to drive at night, look for email reminders of lunches to come.
And if we don't have your email, PLEASE share it.

1957———2023
We gather today as the Broughton
Class of 1957.
As the group of lucky ones
Who've yet gone to heaven.
The dash is the reason
We're celebrating today
It's the life we've lived
Since graduation day.
On our 66th anniversary
May old friendships be renewed,
And memories rekindled
With more than a few.
Here's hoping we have
More years ahead
And love, kindness, and caring
We can spread.
Each day forward
As you continue with life,
Some face the possibility of gaining
A new husband or wife.
Tho' you may not still
Be out earning more cash,
Empower your legacy
While lengthening the dash!
~ Brookshire McDonald 2023
---
Registration List
* Indicates 66th Reunion Committee Member
| | |
| --- | --- |
| Andrea PITTMAN Gardner* | Ann HONEYCUTT Medlin* |
| Ann LAW Zalal & Joyce Shoffner | Anne WILLIAMS Stahel* |
| Anne YARBROUGH Poole | Barbara BAXLEY Smith* & David |
| Barbara BYRD Jones & Windy Wynne | Becky PATRICK Frolik & Paul |
| Betty Lou FRANKLIN Nance & Bill Nance | Billy Dunlap* |
| Brookshire WYNNE McDonald | Bruce Weaver & Martha |
| Bruce Williams & Gail Moss | Buzzy Russell |
| Carol HARWOOD Atkinson | Carlton Baird |
| Carolyn COGGIN Holmes | Carolyn KNIGHT West |
| Colon Rowe & Joyce | David Ward Jones* |
| Douglass Joyce & Colleen Zinn | Ed Bradshaw & Judy |
| Gail HUNTER Blake | Gus Hall & Reid |
| Henry Barnette | Henry Poole |
| Howard Ellis | Jack Godwin & Ava |
| Jim Graham & Pat | Joan WILDER Greason |
| Johanna McKEVLIN Grimes* | John Grogan & Christine |
| John Randall | Johnny Balentine* & Becky |
| Linda STEPHENSON Price* & Ernest | Linda WALL Isley |
| Margaret BOWEN Vanderberry | Marilee MARTIN Little |
| Mary Lib MANNING Slate | Mary Powell WARD White |
| Minne BARNES Jones | Phyllis LANGSTON Miles |
| Sadie TILLERY Parker | Sam Matthews & Peggy |
| Speck Underwood | Talmage Brown* |
| Tom Bradshaw & Mary Mac | Tom Whitaker & Elaine Lowell |
---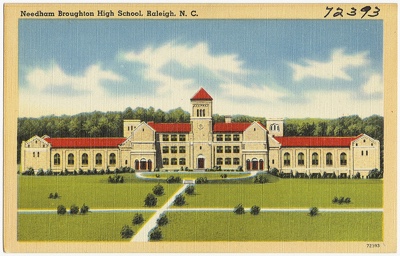 Needham Broughton High School
Class of 1957 Website
NBHS circa 1930-1945 postcard courtesy of Boston Public Library