Needham Broughton High School
Class of 1957
The Needham Broughton Capital Foundation is sponsoring a 90th NBHS Birthday Celebration on March 23, 2019, to raise funds for future enrichment opportunities for students and teachers. The Foundation asked that we post information about the fundraiser. There are opportunities to support Broughton and the event through attendance, donations, or special sponsorships.
HONORARY CO-CHAIRS: Audrey Black & Smedes York
EVENT CO-CHAIRS: CC Bailey Parker & Laurie Barwick
VIP Reception = Sophomore Sponsors & Above* (

6-7 pm

)

Birthday Party = $150 pp (

7-11 pm

)

After Party = $60 pp (

9-11 pm

)

The Fairview / 1125 Capital Boulevard / Raleigh

Cocktail Attire

RSVP by

March 6

---
Calling all Broughton family and friends to celebrate Broughton's 90 years of excellence! Join your favorite alumni, staff and friends to honor this fabulous milestone.
You can purchase party tickets or make a donation at https://my.cheddarup.com/c/celebrating90.
For information on event sponsorship opportunities please visit https://nbhscapitalfoundation.com/sponsor-the-event/.
The NBHS Capital Foundation provides grants for enrichment opportunities for students and teachers at Broughton. A few examples include: Technology, such as cameras, computers and software for classrooms; Instruments for orchestra students and music software; Student travel for math competitions, out of town field trips and UN conferences; The Writer in Residence program; Web Assign; Art and Dance support; Athletic enhancements; and Professional development opportunities for faculty, as well as faculty scholarship awards.
Visit https://nbhscapitalfoundation.com/ for more information about the Capital Foundation and the 90th Birthday Celebration.
---
Submit your 60th Reunion Photos
Save our Memories!
Photos will be uploaded to our website for all to enjoy.
You can email digitial images or mail prints (to be returned).
Email:
nbhs1957@gmail.com
Snail-mail:
Broughton Class of 1957, 3933 Wendy Lane, Raleigh, NC 27606
Welcome!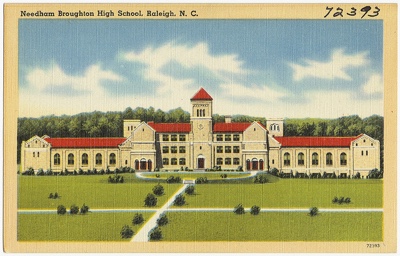 Needham Broughton High School
Class of 1957 Website
NBHS circa 1930-1945 postcard courtesy of Boston Public Library