Needham Broughton High School
Class of 1957
Welcome!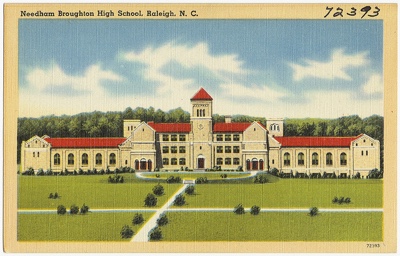 Needham Broughton High School
Class of 1957 Website
NBHS circa 1930-1945 postcard courtesy of Boston Public Library

ANNOUNCEMENTS
Submit your 60th Reunion Photos
Save our Memories!
Photos will be uploaded to our website for all to enjoy.
You can email digitial images or mail prints (to be returned).
Email:
nbhs1957@gmail.com
Snail-mail:
Broughton Class of 1957, 3933 Wendy Lane, Raleigh, NC 27606
---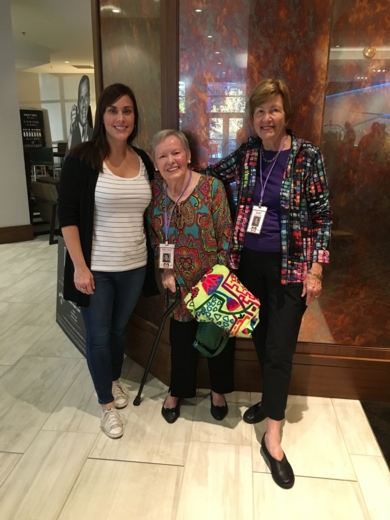 Maria Hill (Mary Llew's daughter), Mary Llew Phillips Hill and Judy Allen
Class of 1957
60th REUNION
27-28 October 2017


Nearly 90 classmates and guests (list below) were hand for our very special 60th Reunion weekend, October 27-28, at the Crabtree Marriott, Raleigh. We send our heartfelt thanks to everyone who made this trip and shared their memories of school days, Old Raleigh, and beyond. We also thank the classmates who made anonymous donations to defray the reunion expenses.
Our 60th schedule provided ample opportunities for "renewing friendships and developing new ones," a meaningful theme. During the afternoons a Hospitality Suite featuring displays of memorabilia and snacks was a popular gathering spot. Evening events included cocktails and a buffet on Friday night and cocktails and a seated dinner on Saturday night. At least two additional hours of socializing concluded each evening.
Observation: All of us still love to talk. Without evening music and dancing to distract, we jabbered away and treasured the extra time together.
Billy Dunlap, our forever class president, served as emcee at the Saturday dinner. An informal program included Brookshire Wynne McDonald, who read her original poem about Broughton; and Lee Rainey, our talented storyteller-performer, who recalled a colorful childhood experience not to be repeated here.
Who traveled the farthest to attend our reunion? Jerry Kriegel of Plymouth, Massachusetts, and wife Penny, won that contest.
The Class of 1957 now has 128 deceased members. We recognized them with a moment of silence before dinner, a display of their yearbook photos, and a printed In Memory list. The In Memory list, with yearbook photos available, is in the left menu of this website.
We hope more classmates will soon sign up on our website. This venue is a good source for news about classmates. Note: Don't worry if you cannot type. You'll do fine. :)
---
This Website Was Created 6/16/2016
Cumulative Number of Visits
22,670
---